Places of Interest-
Wanggu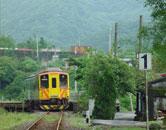 Wanggu Train Station

The story of Wanggu starts in the mid-1800s, when a man surnamed Hu who came here to prospect for coal drowned, after which the mine was named the Death Mine. Later, the name was changed to Wanggu Mine. The train station was built to accommodate transportation of coal miners to and from Qinghe Mine, so it was originally called the Qinghe Train Station. Its name was changed to Wanggu Train Station in 1989 by the Railway Administration as requested by the public.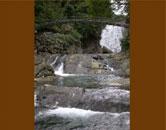 Wanggu Waterfall

Currently, the view of Wanggu Waterfall is obstructed by trees and the trail is buried under wild grass. However, it is a good spot for fishing for freshwater fish and shrimp.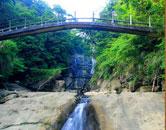 Wanbao Cave Memorial Park/Wanbao Cave Waterfall

Wanbao Cave Memorial Park is at the spot where the Huiyao River drops into the Keelung River as a waterfall. Wanbao Cave Waterfall is a slant-wall waterfall, and there are many potholes and caves in the waterfall wall and on both sides of the waterfall.